Euro 2021: 3. mecz 1/8 finału już od 1180 zł! (przelot+bilet na mecz+nocleg)
Trzeci pojedynek 1/8 finału najbliższych Mistrzostw Europy zaplanowano na Puskas Arenie w Budapeszcie. To na tym obiekcie rozegrano ostatnie spotkanie o Superpuchar Europy, a w czasie przyszłorocznego Euro zagra tutaj zwycięzca grupy C z przedostatnią ekipą grupy D/E/F. Na chwilę obecną wiele na to wskazuje, że w tej batalii będzie uczestniczyć reprezentacja Holandii, jednak czy ta prognoza znajdzie odzwierciedlenie w rzeczywistości ? Tego dowiemy się 27 czerwca o godzinie 18.00. Za przelot, bilet na mecz oraz nocleg zapłacimy już od 1180 zł!

Przelot
Do Budapesztu dolecimy bezpośrednio z Warszawy Okęcia. Za połączenie na linii Warszawa-Budapeszt-Warszawa w dniach 27-28 czerwca zapłacimy 352 zł* (cena regularna 432 zł) REZERWUJ====>.
* cena dla klubowiczów Wizz Discount Club
Transfer lotniskowy
Z portu lotniczego do centrum miasta dostaniemy się za pomocą linii przewozowych Terravision. Z powodu zbyt odległego terminu nie jest jeszcze znany dokładny rozkład jazdy. Więcej informacji znajdziecie TUTAJ====>.
Alternatywnym rozwiązaniem będzie skorzystanie z autobusu linii 100E i 200E oraz metra M3.
Bilet na mecz
W przypadku Mistrzostw Europy jedyną drogą do nabycia wejściówek jest rynek wtórny. Najtańsze bilety w kategorii 3 (miejsca za bramkami) rozpoczynają się od 159,03 EUR (ok. 716 zł) REZERWUJ====>.
Gdyby cena na spotkanie była nieaktualna, bilety niedostępne albo potrzebowałbyś naszej gwarancji napisz do nas. W wielu przypadkach bilety na mecz możemy dostać jeszcze z kilku innych źródeł. Posiadamy kontakty z wieloma klubami, firmami oraz osobami, które zajmują się dystrybucją biletów.
Nocleg
Znajdujący się nieco ponad 2 km od stadionu Silver Hotel Budapest City Center oferuje jednodniowy pobyt dla jednej i dwóch osób w cenie 344 zł (172 zł os./noc).
Dla kibiców, którzy preferują obiekt bliżej lotniska polecamy Hotel Ferihegy. Koszt noclegu wynosi 178 zł za pokój jednoosobowy oraz 224 za kwaterę dwuosobową (112 zł os./noc).
Gdybyś chciał skorzystać z dodatkowych usług podczas wycieczki takich jak: ubezpieczenie turystyczne, wynajem auta, zwiedzanie stadionu–napisz do nas, na pewno zorganizujemy to bezproblemowo i w najniższej cenie.
3. mecz 1/8 finału Euro 2021 będzie miał miejsce na Puskas Arenie w Budapeszcie, 27 czerwca o godzinie 18.00.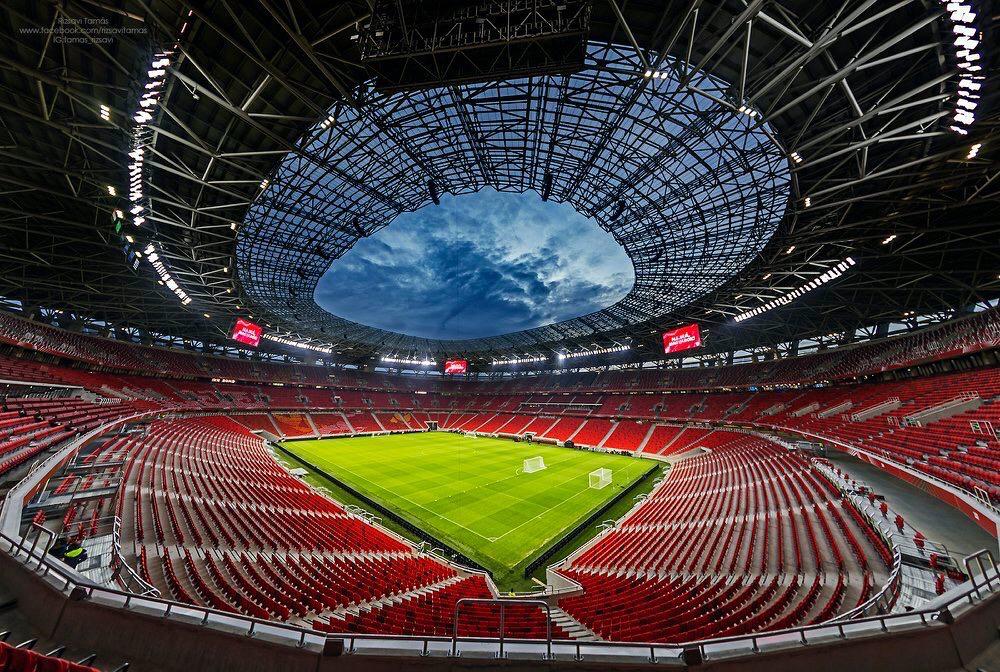 Pamiętajcie aby zalajkować nasz fanpage na Facebooku:  https://www.facebook.com/pilkanazywo (link widoczny także na górze strony)
Zachęcamy także do śledzenia naszego konta na Twitterze: https://twitter.com/jedznamecz
Obserwujcie nasze konta w mediach społecznościowych, by mieć najnowsze informacje o naszych propozycjach !